Welcome to XHaskell!
-A Graphical Software Distribution for Android based on X11-
Lead developer and maintainer: searemind
---
Overview
XHaskell (current version: 3.8) is an Android ARM application based on jackpal's Terminal Emulator for Android.
Many common X Clients have been embedded into the application including but not limited to an image viewer, a media player, two web browsers, a text editor and a word processor. Many command-line applications are also present including Hugs98, cURL, clients for various forms of social platforms etc.
They communicate with an X Server (tigervnc's Xvnc) to display content through a VNC connection which can be accessed through a host of VNC Viewers on Android or on any device connected to the same local network connection.
---
Requirements:
XHaskell currently only supports Android 5.0+ (API21+) ARM devices. ARM64 devices are not supported as of now (and will not be supported until I have access to one for testing purposes).
The app itself is quite lightweight when it comes to memory requirements and can adequately work with <250 MBs of both ram and disk space, considering the huge list of applications included in the distribution itself.
---
Demonstration:
Here is a screenshot showing the application's initial screen (v3.0):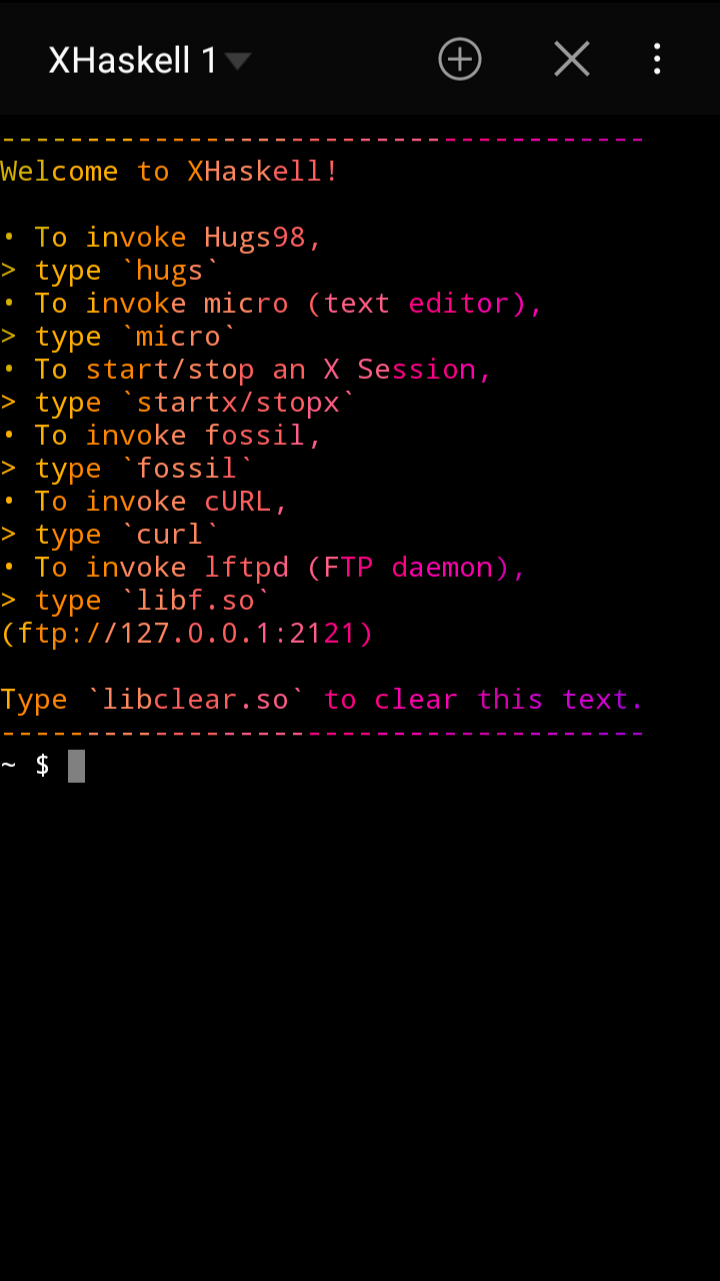 Here is a screenshot showing the initial screen of XHaskell's desktop (v3.0):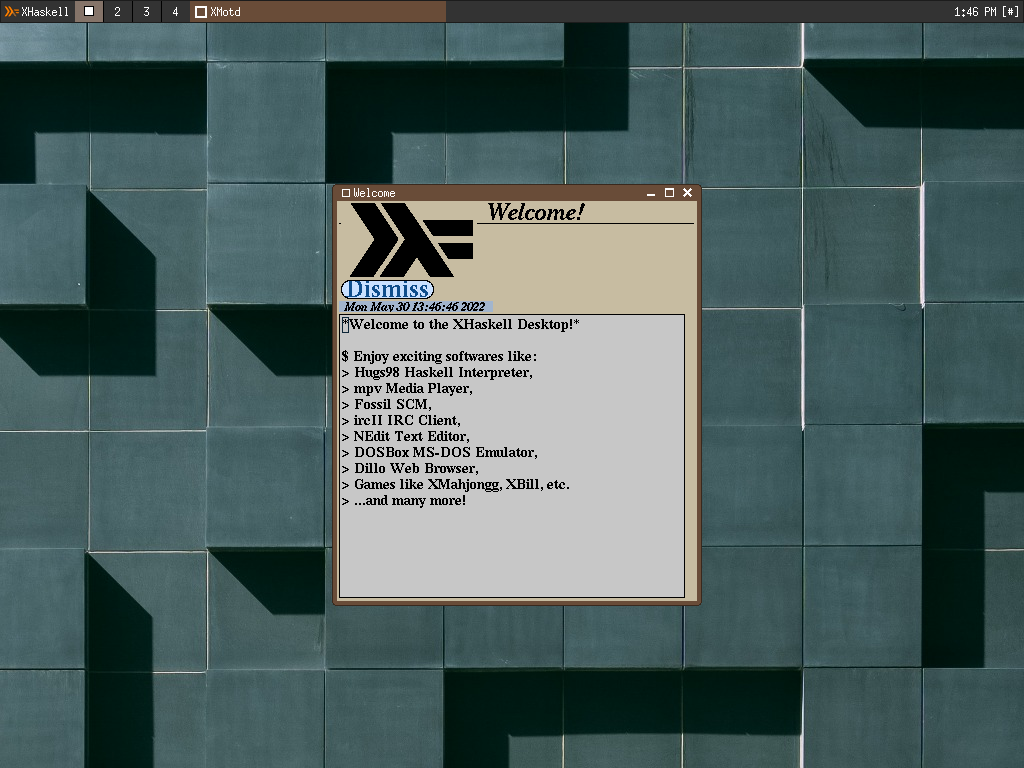 ---
Downloads
Link to version 3.8 for Android 5+ ARMv7
(new versions include mutt, zynaddsubfx, flphoto, siag, azpainter3, fifth, milkytracker, mpv with support for almost everything and many other new softwares)
Link to some addons including a PulseAudio server for audio support on DOSBox, ZynAddSubFX instruments, and a Screen Recorder using ffmpeg
---
Instructions
• To start an X Session, type
startx
in XHaskell's bash prompt.
• To connect to that X Session, connect to
127.0.0.1:5901
(password: xhaskell)
using a VNC Client if connecting on the device itself or connect to
[Address of the device running XHaskell]:5901
with the same password.
• To change the password, type
libvncpasswd.so $HOME/.lib/xserver/share/x11/passwd
AND TYPE 'y' WHEN ASKED WHETHER YOU WANT TO SET A VIEW-ONLY PASSWORD. Otherwise the X Server crashes for some peculiar reason I have still not figured out.
Note: Most options and configurations can be changed by editing the startx script inside
$HOME/.lib/bin/startx
while the look of the Window Manager can be changed by editing
$HOME/.lib/xserver/share/x11/conf/jwm/jwmrc
and other corresponding files.
---
License
This distribution is licensed under the GNU General Public License, version 3.0 and should not be redistributed without the inclusion of the said license.
---